YL series precision filter (also known as the security filter), the cylinder shell is generally made
​​of stainless steel manufacturing, internal PP melt blown line burning, folding titanium filter, carbon filter, tubular filter as the filter element, according to different filter media and design process to select a different filter elements, in order to achieve the water quality requirements. The body can also choose a fast-loading, quick and easy to replace the filter and cleaning. The device is widely used in pharmaceutical, chemical, food, beverage, water treatment, brewing, petroleum, printing and dyeing, environmental protection and other industries, various types of liquid filtration, clarification, purification and processing ideal equipment.
Precision filter using high quality imported 304 or 316L stainless steel is made in order to remove solid particles in the fluid, bacteria-like bodies and other impurities. The device has a high pressure resistance, convenient to replace the filter, processing the large amount of water, small footprint, and filter effects, widely used in the electronics industry, pharmaceutical industry, household drinking water, food and beverage, wine, beer, mineral water industry as a pre-processing and terminal filter.
YL - precision filter I developed a new multi-function filter applies to water, oil, paint and other liquid purification.
The filtration precision of 0.5-100μm, the flow rate of 1.5-200m3 / h. Products of different sizes can be made according to user needs.
The filter shape, internal structure, and various filters through change, so has the use of a machine function. It is divided into 304,316 L stainless steel two kinds of filter material, not only small size, low cost, large flow, and maintenance for the core, to facilitate assembly.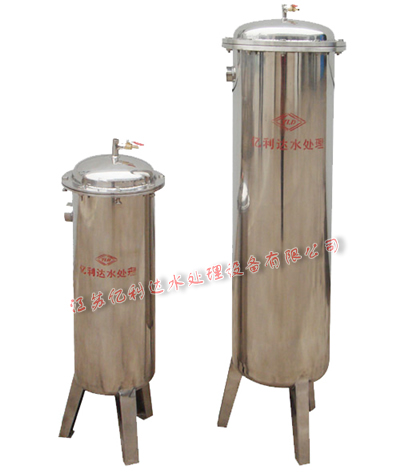 1, High filtration efficiency: for liquid solid filter, minimum filter 0.45um around the particles for gas-solid filter, minimum filter 0.3um around the particles, can filter out 99.9% rate, low filtration pressure.
2, Drain the filter cake and high efficiency: using compressed gas recoil fast method can be very lightweight to be attached to the microporous tube outer surface of the cake quickly, effectively, a safe remove.
3, The high regeneration efficiency: a simple gas-liquid fast recoil the blowback France will be blocked microporous tube for efficient and rapid regeneration, regeneration of the filter tubes to use for some time, the chemical methods can be used, the filter tube and longer life.
4, Superior performance and resistance to chemical corrosion: the microporous tube resistant to various acids, alkalis, salts and most organic solvents, non-toxic, tasteless, no foreign body stripping, very applicable to medicine, food, chemical, environmental protection and other industrial applications.
◆ Pharmaceutical industry: filtration of the liquid, serum, Chinese medicine, water injections, biological products, infusion and a variety of gases.
◆ The food industry: beverage, mineral water, purified water, beer, wine, cooking oil, rice wine, rice wine, liquor, wine, sugar, syrup and other liquid and compressed air and gases filtering.
◆ Water treatment: ultrafiltration, reverse osmosis before the security filter.
◆ Fine Chemicals: seasoning liquid bleaching, decarbonization and precision filtering, before the stage can also be made of stainless steel wire mesh tube filter (equivalent to the bag), followed then the polymer materials microporous filter filter (filtration precision up to 0.2mm).
◆Environmental industry: large-scale water treatment (fluoride, sulfur, phosphorus, wastewater, acidic wastewater, paint waste water, latex paint wastewater suspended solids in wastewater precision filter); precision filtering of the oil well injection; precision filtration of dust washing wastewater.
precision filter size
| | | | | | | | | |
| --- | --- | --- | --- | --- | --- | --- | --- | --- |
| Part number | Spec | flow(T/h) | in and out caliber(mm) | effluent caliber (mm) | Drain valve size(mm) | internal thread size | barrel diameter | barrel total height(mm) |
| YL3-10 | 10 × 3 | 1.5 | 250 | 70 | 40.130 | 1 寸 | Φ 180 | 400 |
| YL5-10 | 10 × 5 | 2.5 | 250 | 70 | 40.130 | 1 寸 | Φ 200 | 400 |
| YL3-20 | 20 × 3 | 3 | 300 | 70 | 40.130 | 1.2 寸 | Φ 200 | 610 |
| YL5-20 | 20 × 5 | 5 | 300 | 70 | 40.130 | 1.2 寸 | Φ 200 | 610 |
| YL7-20 | 20 × 7 | 7 | 300 | 70 | 40.140 | 1.5 寸 | Φ 250 | 610 |
| YL9-20 | 20 × 9 | 9 | 300 | 70 | 40.140 | 1.5 寸 | Φ 300 | 610 |
| YL12-20 | 20 × 12 | 12 | 300 | 70 | 40.130 | 2 寸 | Φ 350 | 610 |
| YL5-30 | 30 × 5 | 7.5 | 500 | 70 | 40.130 | 1.5 寸 | Φ 220 | 900 |
| YL7-30 | 30 × 7 | 10.5 | 500 | 70 | 40.140 | 1.5 寸 | Φ 250 | 900 |
| YL9-30 | 30 × 9 | 13.5 | 500 | 70 | 40.140 | 2 寸 | Φ 300 | 900 |
| YL12-30 | 30 × 12 | 18 | 500 | 70 | 40.140 | 2 寸 | Φ 350 | 900 |
| YL5-40 | 40 × 5 | 10 | 550 | 90 | 40.130 | 1.5 寸 | Φ 220 | 1150 |
| YL7-40 | 40 × 7 | 14 | 550 | 90 | 40.140 | 2 寸 | Φ 250 | 1150 |
| YL9-40 | 40 × 9 | 18 | 550 | 90 | 40.140 | 2 寸 | Φ 300 | 1150 |
| YL12-40 | 40 × 12 | 24 | 550 | 90 | 40.140 | 2.5 寸 | Φ 350 | 1150 |