Working principle
As water entering ,larger particles of impurities are filtered by the coarse mesh,and then reach the fine filter mesh。In the filtering process, fine filters gradually accumulated dirt, impurities in the water, forming the filter impurities layer, because the inside of the layers stacked in fine mesh of impurities, therefore inside and outside in a fine strainer form a pressure difference on both sides.
When differential pressure reaches the preset value, it begin to automatic clean automaticly. water purification meanwhile,pure water supply without stopping,cleaning valve wil be opened, clean room and a sharp drop in the suction pressure, through the filter and suction pipe pressure difference, suction tube and room cleaning by have a suction nozzle, forming a suction process. At the same time, electric motor driven absorption sewage pipe along axis make a spiral motion. Suction combined axial movement and rotation of the entire filter surface completely clean. The entire washing process about 40 seconds to 1 minute. Sewage valve closed at end of cleaning. Rinse filters began to prepare for the next cycle.
Impurities in the water will gradually accumulate in the surface of the filter when the water from the filter mid-stream out of date, leading into the outlet pipe between the water pressure. Backwash when the pressure reaches the preset value 0.05Mp start. Sucking scanner is driven by the motor around the filter to make the spiral motion by movement of the suction scanner sucking impurity particles discharged through the drain valve, but do not touch the filter cleaning process for 30-60 seconds. In accordance with the requirements of water quality, suction type (500-30 microns) and a variety of filtration precision.
Filter differential pressure switch with integrated controller. Pressure switch to start when the water differential reaches the preset value, the electronic control system into the backwash procedure. Recoil time can be preset by the integrated controller.
◆
Equipment structure is compact, sturdy and reliable
◆
Recoil water consumption, the necessary water pressure
◆
High filtration precision, suitable for all types of water quality
◆
Recoil pressure drop does not affect the normal supply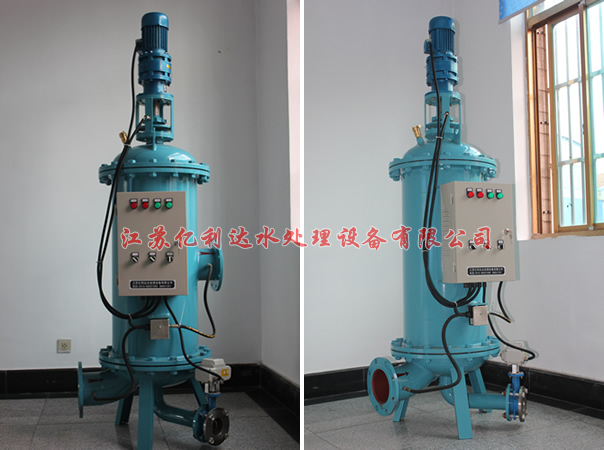 Horizontal electric sucking self-cleaning filter technology parameters
| | | | | | |
| --- | --- | --- | --- | --- | --- |
| | | Flow(T/H) | | | |
| YLXS-50W | 50 | 20 | DN50 | 0.25Mpa | 1.0Mpa |
| YLXS-80W | 80 | 50 | DN50 | 0.25Mpa | 1.0Mpa |
| YLXS-100W | 100 | 80 | DN50 | 0.25Mpa | 1.0Mpa |
| YLXS-150W | 150 | 150 | DN50 | 0.25Mpa | 1.0Mpa |
| | |
| --- | --- |
| Highest water temperature | 65 degrees up to 100 degrees (special requirements) |
| | |
| | |
| | 380V, 50Hz, 3 phase, the controller 220V |
| | |
| | Carbon steel surface resin coating |
| | Stainless steel multi-layer composite mesh, stainless steel wire mesh + PVC skeleton |
| | Cast iron surface resin coating |
Vertical electric sucking self-cleaning filter technology parameters
| | | | | | |
| --- | --- | --- | --- | --- | --- |
| | | | | | |
| YLXS-150s | 150 | 150 | DN50 | 0.25Mpa | 1.0Mpa |
| YLXS-200s | 200 | 300 | DN80 | 0.25Mpa | 1.0Mpa |
| YLXS-250s | 250 | 400 | DN80 | 0.25Mpa | 1.0Mpa |
| YLXS-350s | 350 | 1000 | DN80 | 0.25Mpa | 1.0Mpa |
| | |
| --- | --- |
| Highest water temperature | 65 degrees up to 100 degrees (special requirements) |
| | |
| | |
| | 380V, 50Hz, 3 phase, the controller 220V |
| | |
| | Carbon steel surface resin coating |
| | 316 stainless steel (woven, sintering, wedge-shaped) |
| | Cast iron surface resin coating |